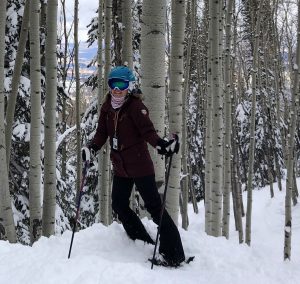 I grew up skiing in the Midwest, at local ski hills, such as Indianhead Mountain, MI, and Devils Head, WI. When I moved to Grand Junction, Colorado, in 2014, the season pass at Powderhorn Mountain was something I was going to save for, a must-have for a college student. Colorado and mountains with snow, I was going to make sure I was on the slopes.
Powderhorn Mountain Resort 
I fell in love with Powderhorn; It is the perfect mix of down-home vibe and some of the best powder days, not to mention the number of turns for the price. There are many times when you will be in the trees all alone gliding through the powder with the only sound is the trees whistling in the wind. 
Powderhorn Mountain is tucked alongside the northern edge of Western Colorado's beautiful Grand Mesa – the world's largest flattop mountain – offering breathtaking views and over 1,600 acres of mountain terrain. 
Powderhorn is about a 45 minutes drive from Grand Junction, perfect for a day of skiing or a mini-ski vacation. 
Open since 1966, the family-friendly resort boasts all the amenities without crowds and prices. You are guaranteed to find a ski buddy if you solo ski and good ol' locals at the bar. 
Recent upgrades include the 2015 launch of a new high-speed quad lift – The Flat Top Flyer – that gets you to the top in just 6 minutes!   I have not waited more than a few minutes in a lift line on weekends. 
My favorite run at Powderhorn is Mad Dog Glades, you ski over some boulders at the beginning, and then it gets a little less steep to cruise through beautiful glades.
COVID-19 
Find the latest COVID-19 guidelines: https://powderhorn.com/covid-19.html
Ski Lessons
I teach skiing on the weekends! Our teachers get so excited when a beginner completes a stop and graduates to the more significant slopes. The kids' smiles are what it's all about.  With 70% of the runs geared towards beginner and intermediate, it is ideal for the whole family, skiers, and snowboarders. Lessons are offered for all ages.  Mom and Dad can learn to ski too. 
Sunlight Mountain Resort 
Recently, I skied Sunlight Mountain near Glenwood Springs.  Sunlight Mountain is only 1.5 hours east of Grand Junction.  Sunlight Mountain is another gem in the area.  Similar to Powderhorn with the low rates, no lift lines, and a family-oriented feel. I will be making this short trek to Sunlight Mountain more often. 
Driving east on I-70 is less congested and usually a non-snowy easy drive. If you have traveled I-70 west from Denver to the ski areas, you know what I mean. 
Sunlight website brags that you get a full day of skiing and snowboarding for about half the cost of a mega-resort lift ticket.  
Family Friendly Vibe 
Sunlight is independently owned and operated, and as its website boasts.  The vibe is unpretentious and friendly. 
Skiing 
Sunlight has some steeper pitch runs to satisfy the more aggressive skier combined with nice groomers and intermediate runs, meeting all abilities.  My favorite run is Casanova Glades, it is a double black through the trees! 
If you are looking for a larger ski resort, Aspen, Snowmass & Vail  are only 2 hours from Grand Junction.  
By: Hailey Coughlin