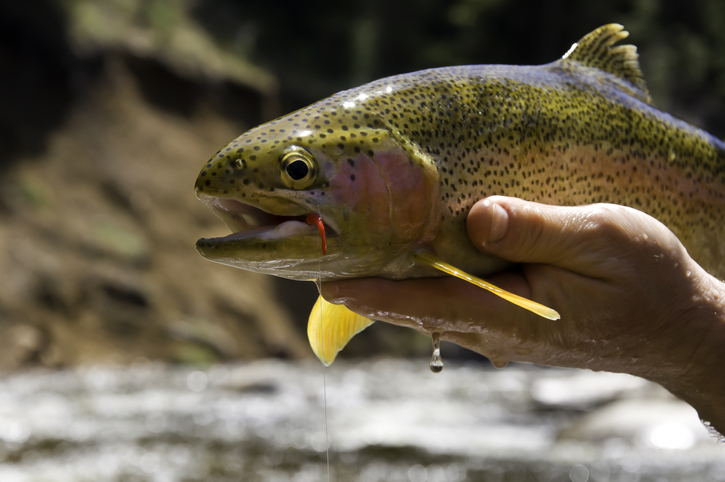 The magnificent Yampa River courses through mountains, rangeland, and canyons, creating diverse and challenging fishing conditions for anglers hoping to catch the trophy-sized rainbow trout that the river is known for.
Here's what you need to know about fly fishing in the Yampa River.
Boat launches and fishing access sites
Boat owners can launch their vessels from 13 public access sites along the river. These sites can be found at various state parks, Bureau of Land Management (BLM) public lands, and state wildlife areas.
All river access sites have boat launches and facilities for walk-wade fishing. Seven of these sites feature developed ramps, while six feature camping sites with well-maintained washrooms and hardened pads with picnic tables and BBQ grills.
Some of these sites include:
Double Bridges – This access site has limited parking space and is not advisable for larger rigs and boat trailers.
Pump Station – Located five miles east of the city of Hayden, this access site adjoins the Public Service Company's water intake structure. Overnight camping is prohibited.
Duffy Mountain – Located 32 miles from South Beach, the site has a boat ramp, vault toilet, parking area, and picnic sites.
State Wildlife Area – Located south of US Highway 40, this site is managed by the Colorado Division of Wildlife and prohibits overnight camping.
Other access sites include:
South Beach (Yampa Project Pump Station)
Sunbeam
Loudy Simpson Park
Maybell Bridge
East Cross Mountain
Juniper Canyon
Click here for a complete list of river access sites and features.
Permits and licenses
Anglers can purchase an in-state fishing license (for Colorado residents) or an out-of-state fishing license (for non-residents) from the Colorado Parks & Wildlife site.
Anglers can choose from the following fishing licenses:
Single day
Additional day
Annual
Additional rod stamps
Only CO residents can purchase small game, combination fishing, annual, and senior annual licenses, while multi-day or five-day licenses are exclusive for non-residents.
To register with the site, you must:
Provide personal information, including name, age, and residence
Choose the kind of fishing license you want to purchase based on number of rod stamps and duration of validity
Verify the license purchase and choose the delivery method
The best fishing spots in Yampa River
Some of the most popular fishing spots in Yampa River include:
Steamboat Springs – Steamboat is recommended for anglers who don't mind the company of rafters and kayakers.
White River National Forest – The fishing areas near the Flattops feature pocket water, riffles, and hunting places for trout. The forest also harbors streams, lakes, and ponds that feed into Yampa River and its tributary, Bear River.
Stagecoach State Park – This fishing spot is ideal for catching trophy pike and rainbow trout year round, particularly in the waters just below the dam, because of plentiful hatches. The mud banks also serve as a fertile breeding ground for a robust fly population that rainbow trout feed on.
Cross Mountain – Anglers who want more peace and quiet can go to Cross Mountain's wilderness study area, where it's generally less crowded.
When to fish
It's generally advisable to start fly fishing around mid-morning, since the local fish population won't be active before then.
As for seasonal fishing, some of most plentiful hatches can be caught in the fall. It's also perfect for solitary anglers since Yampa River is less crowded during this time, with the throngs of summer tourists having thinned out. The waters of Yampa River also run deep and slow in the fall even without rain.
However, ice fishing is also popular during the winter. Anglers can look for open water along the river, or pick a deep spot where they can sink a line. It's advisable to go ice fishing during the warmest times of the day, like late morning or afternoon.
However, anglers much approach the water with caution, avoid walking on ice, and wear warm layers of clothing.
Enjoy great fishing year round when you live in Steamboat and other Northwest Colorado communities. King Homes and Land Realty can help you find the perfect property. Get in touch with our agents today to start the home search.